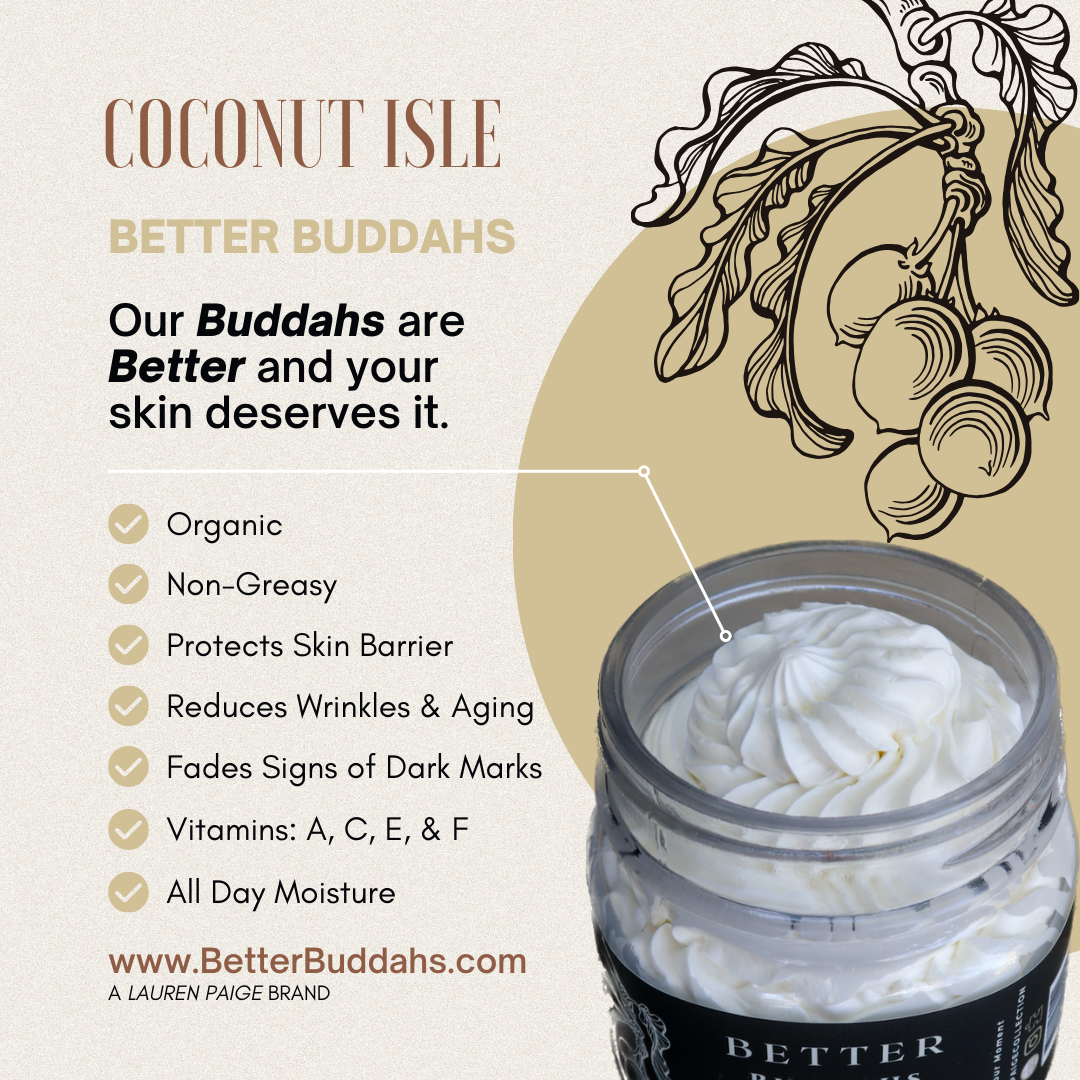 Better Buddahs | Coconut Isle | All Natural Whipped Body Butter
Embark on a journey to a tropical paradise with our heavenly "Coconut Isle" Body Butter. 🥥 Immerse your skin in a luxurious blend of pure coconut goodness, providing deep hydration and nourishment for a silky-smooth and radiant complexion.
Experience the essence of the islands as the exotic scent of coconut transports you to sun-drenched shores and swaying palm trees. Our velvety body butter melts into your skin, leaving it moisturized, supple, and irresistibly touchable. Embrace the luscious tropical fragrance and let your imagination wander to a place of pure serenity and bliss.

Perfect for all skin types, our Buddahs can be used daily to keep your skin soft, supple, and radiant. Infused with a blend of natural oils, skin loving butters, and Super-spices such as Turmeric, antioxidants, anti-aging properties, and nourishing ingredients, they all combine to deeply moisturize and rejuvenate your skin without feeling greasy.
Our Buddahs are Better and your skin deserves it
A little goes a long way, but with that said…You Do You. Simply apply in circular motions until fully absorbed, leaving your skin looking and feeling its best!
Shea Butter, Mango Butter, Sodium Lactate, Coconut Oil, Olive Oil, Jojoba Oil, Arrowroot, Essential Fragrance Oils, & Mica Powder.
Store in a conditioned and/or cool environment away from direct sunlight.